I have never been afraid of change. Everything is constantly changing. The world is experiencing huge change because the COVID-19 Pandemic is having an effect on everyone. It is just one of the changes I have experienced over the last seven years. Some of the changes have not been pleasant. However, I have learned a lot. Just as I expect to do in any experience.
I am a big supporter of self-care & have been for many years. I rudely discovered I wasn't doing quite enough. I am a stubborn person & it took me quite a while to listen. If I had listened to my body a bit sooner maybe I wouldn't have had seven years of health changes that were anything but pleasant.
In 2013 our home was flooded during the great flood of Calgary. Not good; but, I had been wanting to get rid of the carpet in the basement & make a few other changes. What an opportunity. About a week later that I found out why I had been so incredibly tired for the past year or two – I had an autoimmune disease. Changes.
I had always thought of self-care as going for a massage, a mani-pedi, or as simple as a nice soak in the tub. I also knew that self-care meant not taking on too much & being able to say "no".
With the news of an autoimmune disease, I listened to my body & I slowed down. Not enough. I adapted, somewhat. I found not being able to do all I wanted very frustrating. I wasn't able to work enough to keep my job. I retired, not what I wanted, but what I had to do. I hadn't been without a job in about 40 years. But, I had lots of things to do, just not enough energy to do them all.
Still not feeling well my doctor was watching me & referring me to appropriate specialists. I had my gallbladder removed because of stones & nausea almost every day. The surgery went smooth & I was feeling great the next day & attended my granddaughter's grade 12 grad just 3 days later.
A week later, things changed. I awoke in great pain. Back to the hospital for a week's stay, I had pancreatitis. I took the entire summer to recover. A great change to how I would normally spend the summer.
I never got back to feeling well, but I kept plugging along doing what I could to regain strength & endurance. Various symptoms continued to develop. Tests & referrals to a variety of doctors. Eventually, it was noted that my spleen was getting quite large (I hadn't been able to eat much for several months & my weight was dropping. I was very happy to lose the weight, I needed to drop many pounds. The doctors weren't quite so happy. Surgery was in order to remove the spleen. I think that went as well as could be expected. The spleen was cancerous, as the doctors had suspected. With my spleen removed I was considered in remission, I would only need to be followed by the cancer clinic. I could handle that. Again doing well recovering from the surgery. Having surgeries was a big change for me & I was pretty happy with both. As a retired ICU nurse, I was very aware of many things that could go wrong.
About a month after the splenectomy, I started to not feel well again. Another change that I wasn't too happy about. More tests. Off to the hospital again. I wasn't feeling too bad, & was surprised that the hospital kept me. A couple of days later that changed. I thought I was going to die & the doctors couldn't figure out what was wrong. A different cancer this time. I was thrilled that it was just cancer & could be treated with chemotherapy & was expected to have a full recovery.
The chemotherapy routine was different – another change. My husband was a marvelous caregiver; I will be forever grateful to him. I finished chemotherapy in February 2020. COVID hit & within a month we were in lockdown. However, that wasn't a big change for me; I had been very careful since my spleen was removed because no spleen decreases your resistance to infection.
What changes have occurred since then? Well, nothing very major. Another autoimmune disorder, but not much different than what I already had.
Changes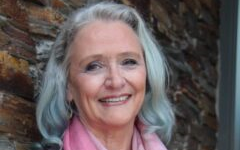 Every day we undergo changes we don't notice. In one day 2 to 3 million red blood cells are produced. As cells are produced others are dying. As many as 1011 cells die each day in adults. These are only some of our cells. Different cells live for various amounts of time. Just as we cannot step in the same river twice, we are a different person every day with many new cells. Change in you, in me, every day: wow!
When faced with change I suggest looking at what you can learn. Discover how change can be of benefit, or provide the source for an adventure. Whether it is health, how you are functioning in this world, or discovering more about yourself you have a choice to embrace change & make sure you emerge a better person OR you can choose to let the change control you.
I am working to build my coaching/mentoring business. As I do this work, I realize I have lots to learn, not the least is more about technology. I am much more aware of the positive changes we can make. Sometimes we need to make changes so we can manage the changes we have accepted in the past. I love helping people discover the wonderful things they can do with just a bit of discovery & guidance.
What changes would you like to make? Oh my gosh, we can actually choose to make changes. Where do you want to be in 5 years? Will you need to make some changes to get there? Will there also be changes that 'just happen'?
Book a time in my calendar to schedule a free chat to uncover your strengths & move forward to make your dreams come true.